Antibody Discovery Platform Services
Immunization
Spatial Peptide design and synthesis for antigen presentation
Chicken Immunization by vaccination (Peptides, Spatial Peptides, Proteins, Nucleic Acids, Cells, other molecules)
Chicken Immunization by transcutaneous electroporation (Protein expression DNA plasmid)
Screening
Phage-Display Antibody Candidate Screening
Chicken Single B Cell Antibody Candidate Screening
Avian Antibody Sequence Determination
Next Generation Sequencing (NGS) Antibody Library Analysis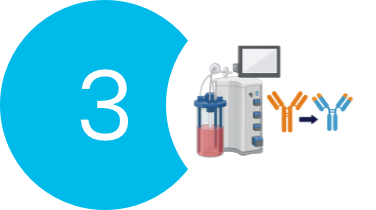 Engineering and Production
Avian Antibody Optimization & Humanization
Bi-Specific and Multi-Specific Antibody Engineering
Antibody Production & Purification
Stable Cell Line Development
Validation
Antibody Validation:
Affinity Assays
Functional Assays
Flow Cytometry
Biolayer Interferometry
Surface Plasmon Resonance
Static Light Scattering/Dynamic Light Scattering
* The images above are created with BioRender.com
Contact Us for your custom antibody needs
License Opportunities
Immune Biosolutions also develops its own therapeutic antibodies. We focus on targets with unmet needs for immuno-oncology and infectious diseases. The company is interested in building strategic partnerships with biotech and pharmaceutical companies to bring our pipeline assets to a successful development. Contact us if you are interested in in-licensing opportunities!